Erinnert ihr euch noch an den Highschool-Film "Girlsclub – Vorsicht bissig!" (und somit an den dämlichen deutschen Titel), im Original "Mean Girls"? Dieser Film war irgendwie überraschend anders, oder? Die Dialoge, Story-Wendungen, Charaktere. Die brillante Geschichtenerzählerin dahinter: Tina Fey, Drehbuchautorin. Fey ist aber auch Schauspielerin, Produzentin, Schriftstellerin, Comedian.
Ich bin mir sicher, dass alles, was Tina Fey anpackt, ein Erfolg wird, weil sie hart arbeitet und dabei stets schonungslos ehrlich ist. Und gerade in ihrer Ehrlichkeit liegt die Quintessenz ihres Witzes. Sie trifft punktgenau den Kern aktueller gesellschaftlicher Diskurse – und bringt sie uns durch Humor näher.
Dank Tina Fey weiß ich, …
… dass Ehrlichkeit das beste Mittel ist, um gehört zu werden.
Zusammen mit ihrer langjährigen "Saturday Night Life"-Kollegin und Freundin Amy Poehler moderierte Tina Fey 2013 die Golden Globe Awards. Die Kritiker warfen mit Lobeshymnen um sich – Fey und Poehler moderierten daraufhin auch die folgenden zwei Ausgaben der Preisverleihung. Durch ihren Charme und Witz und die Tatsache, dass sie dabei kein Blatt vor den Mund nahmen und ihre Hollywood-Kollegen knallhart analysierten, begeisterten sie das Publikum. Die Zuschauerzahlen waren so hoch wie zuletzt vor zehn Jahren.
Fey und Poehler über Amal und George Clooney:

gifs: NBC/Buzzfeed
Und die beste Art, Leonardo DiCaprio auf die Bühne zu holen: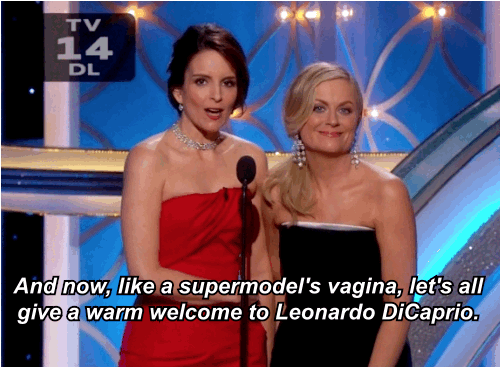 … dass ich nicht alles süß/gut/lecker finden muss, nur weil es alle tun.
Die Gesellschaft geht sehr häufig davon aus, dass es bestimmte Dinge im Leben gibt, die jeder akzeptiert. Jeder mag Schokolade, wie kann man denn Schokolade nicht mögen? Wie, deine Lieblingsjahreszeit ist Winter?! Jeder mag Tiere, wenn du Tiere nicht magst, bist du seltsam. Tina Fey steht zu ihren Ansichten, die nicht "normkonform" wirken oder dazu, dass sie zu bestimmten Dingen schlichtweg gar keine Meinung hat. Und das ist okay!! Sie kürzt es in Fey-Manier ab und sagt, was die anderen wahrscheinlich denken, "In short, I am the worst."
"I have no affinity for animals. I don't hate animals and I would never hurt an animal; I just don't actively care about them. When a coworker shows me cute pictures of her dog, I struggle to respond correctly, like an autistic person who has been taught to recognize human emotions from flash cards. In short, I am the worst." – Tina Fey, Bossypants
… dass Backstage-Luft gut tut.
Ich war von der fünften bis zur dreizehnten Klasse in der Schul-Theater-AG, ein Ort für jene, die noch nerdiger als die Physik-Cracks waren, aber leider bevor es cool war, nerdy zu sein. Tina Fey und der von ihr gespielte Charakter Liz Lemon in der Serie "30 Rock" machen keinen Hehl aus ihrer Theater- und Improvisationsgruppen-Vergangenheit. Und Liz Lemon ist, wie Tina Fey es bei "Saturday Night Live" war, Chefautorin einer wöchentlichen Live-TV-Show. (Fey verarbeitet die Jahre bei SNL in der von ihr geschaffenen Serie "30 Rock".) Sie zeigt uns, was "backstage sein" bedeutet: es ist chaotisch, stressig, ein bisschen schmuddelig, authentisch. Haaaaach. Good old times.
… wie wichtig es ist, zu blödeln.
Tina Feys Humor besticht wie gesagt durch Klarheit, Pointierung und Wahrheit. Doch sie kann auch albern und platt rumwitzeln, und das ist ebenso herrlich-erfrischend wie inspirierend – denn sie hat dabei keine Angst vor Hässlichkeit. Und das muss sein. Diesem Gefühl der allgegenwärtigen Kamera-Dauerpräsenz entgegenzuwirken und sich einfach zum Affen zu machen – ja, das geht noch, Danke Tina.

… dass ich "bossy" sein darf.
Die Serie "30 Rock" beginnt damit, dass sich jemand am Hot Dog-Stand vor Liz Lemon (gespielt von Fey) drängelt, indem er einfach eine zweite Schlange aufmacht. Lemon spricht den Herren auf sein unpassendes, egoistisches Verhalten an, dieser blafft bloß zurück. Liz Lemon kauft daraufhin den Hot Dog-Stand leer und verteilt die Hot Dogs an alle anderen wartenden, außer den Herren. Diese Aktion hätte auch von mir kommen können (wenn ich rund 150 Euro für Snacks in der Tasche hätte). In Situationen, die von Ungerechtigkeit und Egoismus von – sagen wir's – Idioten geprägt sind, tendiere ich zu extremem Verhalten, um die Leute vorzuführen. Aber dank Tina Fey (bzw. Liz Lemon) weiß ich, dass ich da nicht allein bin, und dass das auch mal sein darf.
"I'm still the kind of person, if I see someone cutting in line, it's like, excuse me, what are you doing? I'll get in a fight in, like, the Easy Spirit on the Upper West Side, on someone's behalf." – Tina Fey, The New York Times, 2011
Der neue Film von Tina Fey und Amy Poehler, "Sisters", ist jetzt im Kino. Feys nächster Film, "Whiskey Tango Foxtrot" (also WTF, ich hoffe, hier denkt sich niemand einen dusseligen deutschen Untertitel aus), kommt am 12. Mai in die deutschen Kinos.